Children's Touchscreen Tables | Interactive Multi-touch Apps
CHILDREN TOUCH SCREEN TABLE

SCHOOL, RECREATIONAL CENTER, EDUCATIONAL WORKSHOPS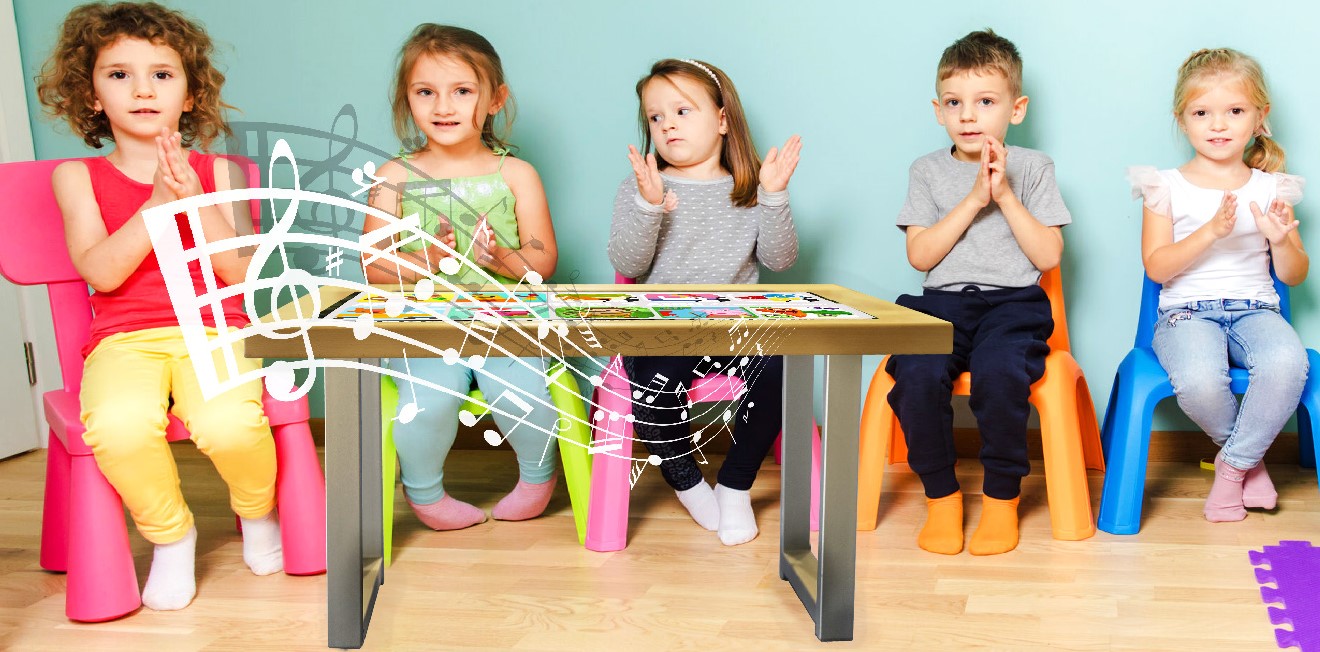 for group teaching activities in pre-school age
Kindergarten & the 5 fields of experience
Among you and others. The body and movement. Speeches and words, images, sounds, colors, exploring new digital technologies and new media.a.
The interactive table supports children in kindergarten activities which include the skills to observe, explore objects and materials, draw, color, listen to stories and musical pieces and perform dances and movements to the rhythm of music.
Read images and sequences, collaborate with peers, play in a foreign language, develop eye-hand coordination.
Counting, grouping and ordering objects and materialsaccording to different criteria. All this thanks to numerous Educational Apps on the market, often in the form of a game.
ONLINE EDUCATIONAL APPs
Intuitive, available and easily downloadable from the online App Stores directly from the table, thanks to the Wifi connection available, there are some for each didactic objective and can be classified into three macro areas:
App for the development and / or consolidation of basic skills
(exercises of perception, attention, recognition of shapes, colors and dimensions, spatial and temporal orientation, memory, reasoning
Apps that allow you to invent, develop creativity (graphics, music, writing, logic)
App preparatory to activities and contents of the first years of primary school , such as reading-writing, calculation, elements of science and technology, and foreign language.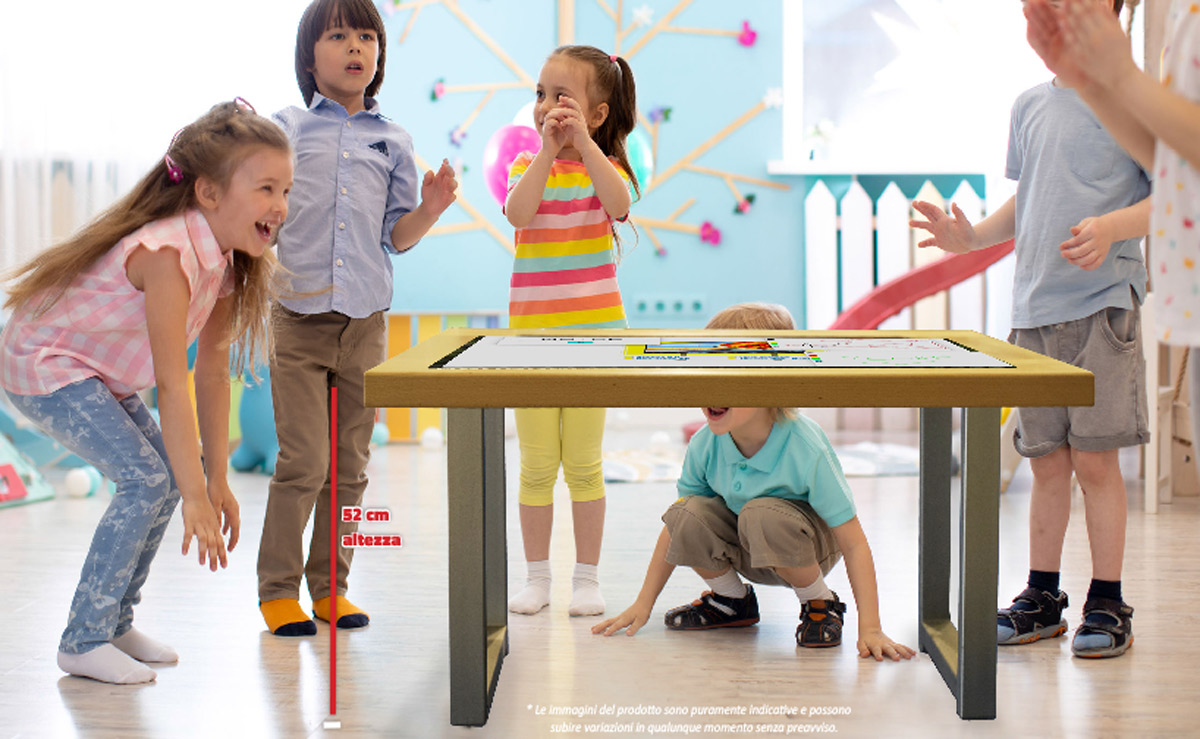 Nothing more stimulating for the intuition of a new generations oriented to the digital Era :

draw, color, test, erase, stimulate the imagination with educational apps
TABLE FEATURES
10-touch Capacitive Interactive Table with integrated Android Player, iron legs and an extra 3.95 in. of solid and warm  beech wood frame  for additional support surface.
A union between technology and wood that links digital and traditional activities and furnishes diversified educational settings in a modern and design style.
Height reduced to 20.42 in. : designed to be used safely in preschools and playrooms, for pre-school children.
Water-proof: The accidental spill of liquids will not cause any problems to the functioning of the table, so digital activities can be combined with physical activities of manipulation and creativity.
SOFTWARE AND APP INCLUDED
SmartMedia IWB for creating lessons with over 10,000 teaching resources.
SmartMedia SmartTouch for creating and managing multimedia presentations of any kind.
Both software are Windows compatible
App Store to download and install additional Educational and Entertainment Apps
Applications
Made with natural materials, for use in school environments, the SmartMedia table is functional for setting up diversified educational settings such as laboratory activities and group work and is in line with the new educational spaces and new school architectures, which emerge in the process. of architectural regeneration of the town's schools.
Easily sanitized.
Elegant and functional, it allows access to many online resources for the preparation and management of lessons.
Leave your references and you will be contacted:
EDUTAINMENT: THE ART OF LEARNING BY PLAYING

The Playful way to optimize Learning