Document Camera and Visual Presenter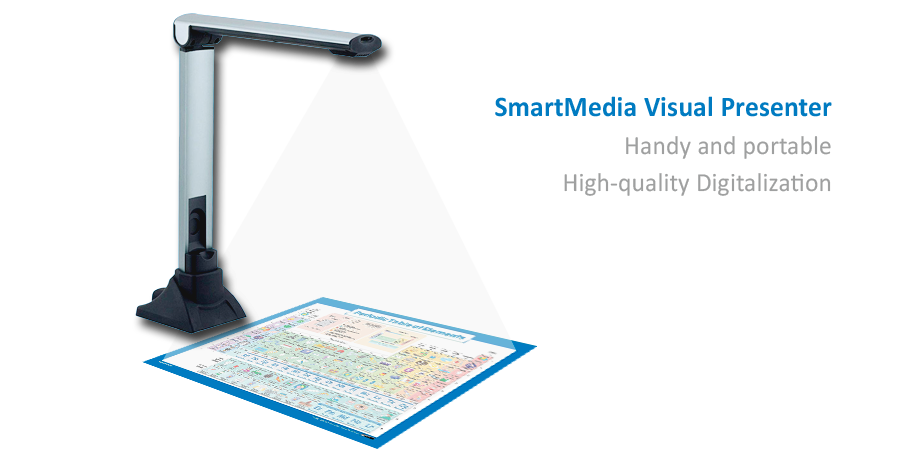 The Visual Presenter SmartMedia is a powerful tool for capturing images in real time, to be shown to public and classroom presentations.
It offers high image quality while maintaining excellent color reproduction and can be used to capture three-dimensional images.
3D objects images or paper documents placed under the camera can be saved on the computer and / or made them interactive if is associated with an interactive whiteboard, monitor or a wireless tablet.
The powerful software provided allows you to make annotations, highlight, focus on details, increase the brightness of the image, save the document, etc..
Specifications
| | | |
| --- | --- | --- |
| Model | SP10 | SMC20 |
| Zoom | Yes | Yes |
| Image sensor | 3.0 M CMOS | 5.0 M CMOS |
| Motorized Camera  | No | No |
| Output focus | 1024X768 | 1024x768 |
| Focus | Auto/Manual | Manual |
| Image capture software / video | Included | Included |
| Stabilizer | Yes | Yes |
| Internal storage capacity | / | / |
| White Functions / Black, negative | Yes | Yes |
| Rotation | 0,90,180,270 | 0,90,180,270 |
| Frame Rate | 30fps | 30fps |
| Video inputs and outputs | No | No |
| Audio inputs | No | No |
| Audio outputs | No | No |
| C-Video | No | No |
| USB 2.0 port | Yes | Yes |
| Brightness  | LED light bulb | LED light bulb |
| Integrated microphone | Yes | No |
| SD Card reader | No | No |
| Temperature | 0ºC~40ºC | 0ºC~40ºC |
| Dimensions | / | Open: 343x315x87mm, Folded: 343x104x87mm |
| Weight | 1.54 lbs | 1.763 lbs |