Business Area
Details
SmartMedia @SmartCity Expo World Congress - Barcelona, Spain 14-16 November 2017

Let's shape together the future of our cities. SmartMedia Hall P2, stand 123 (with ICE Agency)
Cities across the globe are installing technology to gather data with the aim of saving money, becoming cleaner, reducing traffic, and improving urban life.
Better parking, efficient lighting, improved traffic flow, smarter security, improved waste management, and disaster planning are all areas where technology can make an impact.
SmartMedia's digital and interactive products with its own SmartMedia specific Softwares, offer great possibilities to help achive the result!
8 main Topics for Smart City at Expo World Congress 2017:
the place for experts and market players to share and exchange knowledge and solutions, and look in-depth at the great challenges that modern cities face.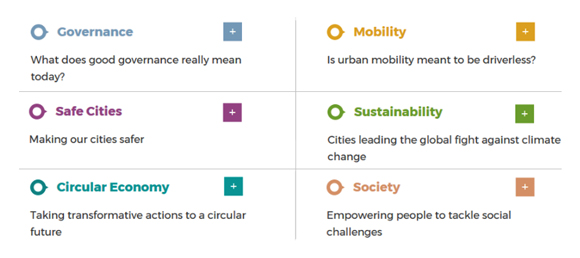 Some of SmartMedia Digital and Interactive products for Smart Cities:
- Digital Signage Kiosks and Wayfinding Kiosks for Smart Cities
SmartMedia is an Italian company specialized in multi-touch interactive products that proposes Digital Signage and Wayfinding Kiosks for Smart Cities, as innovative urban solutions to improve service efficiency in metropolitan areas or small cities with digital touch technology, focusing on citizens needs in order to let them save time and giving quick information in an accurate time.
Multi-touch Monitor up to 86"  -  Interactive Digital Kiosks -  Digital interactive Podium
Digital communication will be direct and customers can intuitively interact, choosing information, writing ideas and giving their own data in the direction of creating a strict relationship of engagement and dialogue with authority or companies.
Today digital touch Kiosks are massively used into sustainable Urban Mobility plans projects, even for the European Community ones.
SmartMedia interactive Kiosks are available for any indoor or outdoor installations and they can be customized by colors and technology.
They come with an Android Player or a PC and they are very quick to install and use.
- SmartMedia's offer is completed by specific Softwares for Digital Signage applications and 3DWayfinding Softwares, specially designed for interactive Kiosks installed into SmartCities, Malls or great buildings and for SmartMedia 43" or 55" Interactive Digital Podium destined to meetings and conventions centers, museums, exhibitions.
- SmartNotifyME is the SmartMedia new cloud-based platform for customer management and citizen engagement, designed to enrich the relationship between citizens and companies they follow.
SmartNotifyME allows companies or central local authorities to send push notification messages directly to citizens personal smartphones, as they have previously installed SmartNotifyME App.
This is a very useful application to stay-in-touch with them.