SMA Series 1165 touch screen Monitors

The SMA 11L series touch monitors are modern and technological systems that allow a perfect vision. Interactive and easy to use , ideal for presentations.
The monitors are equipped with a 4K matrix to ensure long life and high resolution.
Modern design with black frame, rounded corners, anti-reflective glass, USB input ports.
Built-in Android player to surf the web and use any App, optional built-in PC OPS
FEATURES:
Infrared technology
Natural writing technology without interruptions
Android 11 Multilingual integrated with WiFi
Environmental sensor for automatic brightness adjustment
Wi-Fi hotspots
Designed to allow on-site maintenance of infrared modules
Supplied software: SmartTouch for managing multimedia content, SmartMedia IWB complete with videoconferencing plug-in, SmartMedia Pro for managing devices in the room, SmartSignage for Digital Signage applications
Optional integrated OPS PC, available with i5 or i7 processor (*customizable)
CHOOSE A SMARTMEDIA SMA1165 TOUCH MONITOR
SMA Series Interactive Displays are a powerful and versatile tool for 4K resolution viewing at maximum power, with 40 touch points.
The complete and functional solution, ideal for meeting rooms or offices, for the realization of common projects, which can be modified with a touch!
Also ideal for Digital Signage and Videoconferencing.
SMA1165
Technical features Monitor SMA1165
Model
SMA1165
Glass
Tempered, 4 mm thick, anti-reflective, 7 Mohs hardness
Display 16:9
LCD with con backlight LED
Active area
65"
Viewing angle
178°/178°
Average duration
75000 hours
Dimensions (LxHxW) 
58.46 x 34.96 x 3.5 in.
VESA size (LxW)
500 x 400
Display size (LxW)
56.23 x 31.63
Resolution 
4K (3840 x 2160)
Contrast
5000:1
Brightness
500 cd/mqw
Colors 
1,07 billions
Touch  technology
Infrared
Response time 
3 ms
Pointing accuracy 
< 1 mm
Integrated Android player 
Android 11 Multi-language, ARM Cortex-A55 quad-core processor, 4GB RAM, 32GB storage (expandable)
Wireless
Yes
Touch points 
40
USB Touch output
1 rear, 1 front
USB input
2 rear , 3 front
HDMI input
2 rear, 1 front
AV input
1
LAN input 
1
AV output
1
SPDIF output
1
Headphone output
1
RS-232C port  
1
Integrated speakers
20W x 2
Accessories supplied
Power cord, 2 magnetic pens, remote control, HDMI cable, USB cable for touch, wall bracket
Weight
92.59 Lb
Optional integrated PC OPS 
Intel Core i5/i7 processor with 4 GB RAM, 128 GB SSD, WiFi, LAN, 2x USB 3.0, 4 x USB 2.0, HDMI out, VGA output , headphones output, microphone input, Windows 10 Pro.
On request, possibility to receive quotations for personalizing the OPS PC: for expanding ram, ssd, processor generation, additional ports and more.
Features included
Environmental sensor for automatic brightness adjustment, Hotspot WiFi, Bluetooth
Included apps:
Audio/Video player - WPS Office player for accessing Microsoft resources - App for creating notes with notes and drawings - Browser app for web browsing - WhiteBoard app for writing, annotating, drawing on any content - Store for downloading and installing additional apps
Supplied
Power cable, 2 magnetic pens, remote control, HDMI cable, USB cable for touch, wall bracket
Included Software
SmartMedia SmartSignage
SmartMedia Signage is the new Cloud based solution Software for Digital Signage applications by SmartMedia. 
Queue Management System as Optional function.
SmartTouch
SmartTouch is the software that lets you manage multimedia content and presentation files more effectively and in a more visually engaging way on any touch-based device.
Photo, video and audio viewer
Integrated browser that allows surfing the internet and creating a (white / black) list of navigable sites or those not accessible
Puzzle application to entertain visitors in a fun way
Management of customizable quizzes for educational or entertainment use
PDF file viewer and Microsoft Word, Excel and PowerPoint
Form application for entering a few personal data and e-mail address that allows you to attach files, brochures, technical sheets, images, screenshots, etc. and send them automatically to the entered address
SmartMedia IWB
Link Tutorial Smartmedia IWB
Check all functions of your PC or Laptop and applications
Draw perfect geometric shapes
Save and print what has been done with the whiteboard
Write on the applications, create annotations and highlight or enlarge parts of the screen
Instant connectivity in real-time to camera, webcam, document camera or other digital devices
Distance learning: connection in video conference mode via Internet or LAN and/or wireless, allows participants with the same software to join the conference and share whiteboards
Integration with the main video conferencing systems
IWB format supported, common file format (CFF) for interactive whiteboards
Compatible with the most popular operating systems
Multi-user with interface customization of the software and password protection for single user
Research of online resources through a keyword
Exportation in: image (.jpg, .jpeg, .bmp, .png, .tif, .tiff, .gif), pdf, power point (.ppt, .pptx), word (.doc, .docx), excel (.xls, .xlsx), web page (.html) 
SmartMedia Pro (5 users)
With SmartMedia Pro, our multimedia-linguistics educational network software, you can easily transfer and share images or files with your students, communicate with them through voice and text messages, explain with the help of images and sounds, broadcast a movie via network, show the class an exercise created by a student, check the student's screens, block student's devices, manage instant quiz/survey and more.
Accessories
Mounting options
Wall bracket for monitors (included)
Trolley for monitors from 42 "to 75" (TR-UN) .
In iron, height-adjustable during installation, with large support surface and 4 self-locking wheels. Optional.
Trolley for electrified tables and interactive monitors from 42 "to 100" (TR-TTI) .
Adjustable in height and inclination up to 180 ° to transform into an interactive table by remote control. Optional.
Optional accessories
SmartMedia Touch Screen Stylus Pen (SM-P10)
Direct access to the Author software even from a distance. 6 function keys available that allow direct access to the author software, can directly activate up to 8 functions, for freer and more effective presentations and exhibitions.
PC OPS box image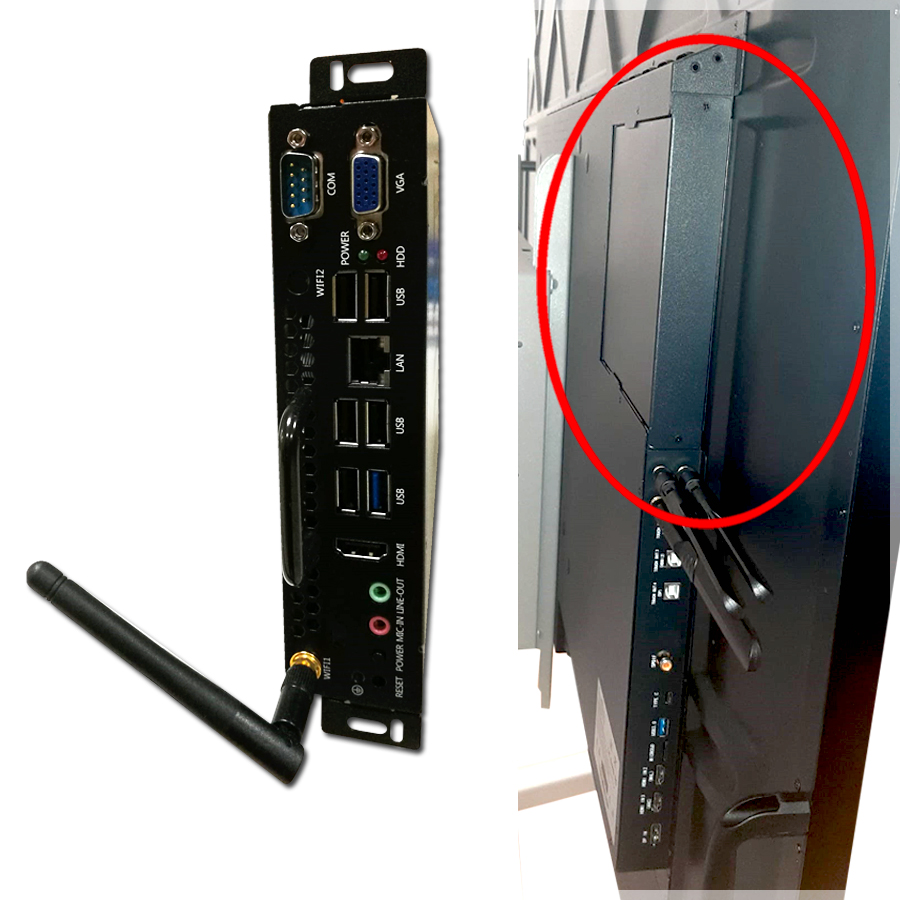 Do you want to know more about all SmartMedia products?
Fill in the following form and you will be contacted shortly to arrange an appointment with our commercial experts.
Also possible a virtual demo of the products in video call. .

Our target markets
Retail Stores | Shopping centers | Hotel | Museums | Airports | Banks | Pharmacies | Corporate | Business centers | Convention Centers | auditorium | Hospitals | Medical Centers | Catering | Schools, universities and libraries | Travel Agencies | Gyms | Fairs and events | Tourism