Discover the wide range of SmartMedia Interactive Kiosks available in Single-sided or Double-sided versions with SmartMedia SmartSignage Software for Digital Signage applications included. Ask for any information; You can learn more about availability and prices and you will find the solution that best suits your needs. Customizable products.
All SmartMedia Digital Interactive Kiosks are customizable and are equipped with powerful softwares to optimize the use of these powerful touchscreens.
SmartMedia Kiosks are essential products for schools, work activities, entertainment, games, events, Hotels and Restaurants.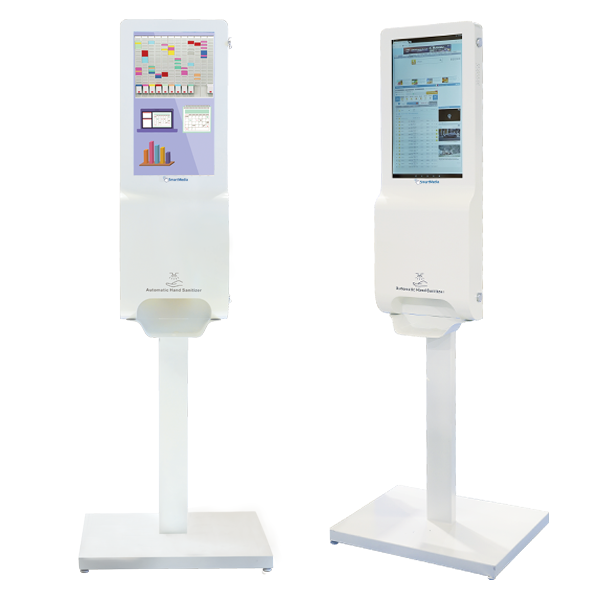 21.5" SANITIZER KIOSK
21.5" display for Digital Signage - No touch - The built-in automatic sensor Dispenser distributes the gel Sanitizer. Ideal for access to classrooms and shared spaces.
Wall or Stand installation. Optional: Wrist temperature detection.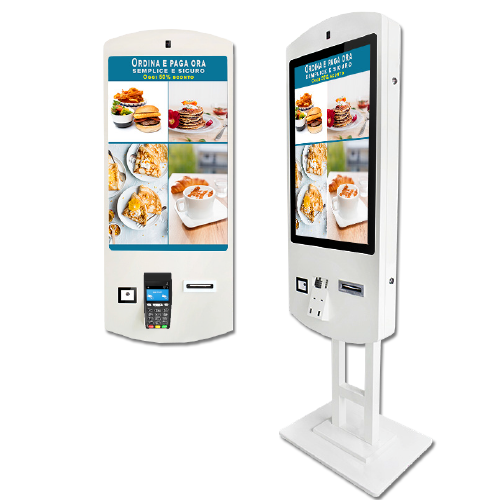 Digital Touch Kiosk, 10 touch points, LAN and WI-FI connection, Barcode & QR code reader.
Simplified menu management with images and videos manageable locally or remotely with SmartSelfService Software included.
Indoor Digital Signage Kiosks for Orders and Payments Management for Catering, Hospitality, Entertainment and any kind of automated ticketing.
Automated box office for museums, cinemas, theaters, events, shows, trains, buses and theme parks.

PDF download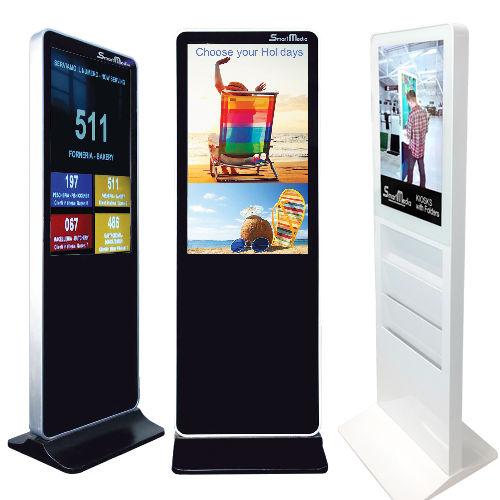 INDOOR DIGITAL INTERACTIVE KIOSKS
Wide choice of models among the SmartMedia Indoor interactive Kiosks.
Bright displays remotely manageable, thanks to the included Digital Signage software, make communication easier and more effective into commercial activities, retail shops and in waiting rooms.
Available in multiple colors, some models have leaflet compartments to combine digital and traditional printed paper communication.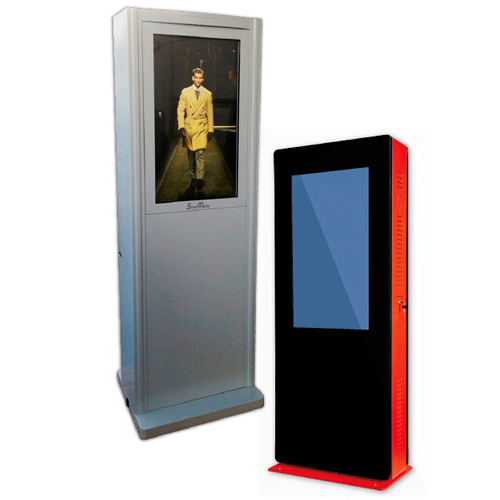 OUTDOOR DIGITAL INTERACTIVE KIOSKS
SmartMedia Outdoor Digital Interactive Kiosks with IP65 or IP66 certifications are powerful visual and interactive communication tools designed to work continuously 24/7.
Available in single-sided or double-sided display mode and in multiple formats to fulfill the different needs.
Customizable per project.
Leave your references and you will be contacted:
---